Massage with Kimi on Maui
Kimi has been a Licensed Massage Therapist on Maui since 2006. She specializes in Therapeutic Deep Tissue massage, Traditional Lomi Lomi Hawaiian massage, and Orthopedic Massage Therapy.
Kimi has experience with "Body Maneuvers", and active isolated stretching techniques. These techniques increase circulation, lengthen body tissues, create awareness, and enhance flexibility and wellbeing.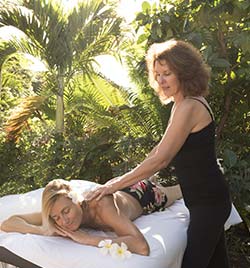 She has developed a signature style of massage, mixing elements of Hawaiian Lomi Lomi, Sports, Deep Tissue, Swedish, and Hot Stone massage.
Kimi incorporates traditional Hawaiian, Eastern, and "Energetic Therapies" seamlessly into each session to create a personalized experience for every client.
Her clientele over the years has included personal trainers, Pilate instructors, runners, cyclists, golfers and surfers. Beyond working extensively with athletes, Kimi, having practiced in top spas has perfected the delivery of the relaxing spa experience to Maui Residents and Visitors alike.
Kimi's approach is exploratory, thoughtful, confident, and warm. She works with her clients to ensure that each session meets their individual and specific needs.